2015 Classic Science Fiction Film Festival
October 23-25, 2015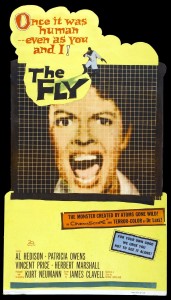 Friday October 23 7:30 PM THE FLY (1958) 94min. D: Kurt Neumann. A Canadian scientist (David Hedison) self-tests his atom-scrambling teleportation device with unforgettably monstrous results. This cult shocker written by James Clavell was a box office smash that spawned a pair of sequels while giving new meaning to "Please help me!" Also starring Vincent Price, Herbert Marshall and Patricia Owens. Filmed in Cinemascope. SCHEDULED SPECIAL GUEST: DAVID HEDISON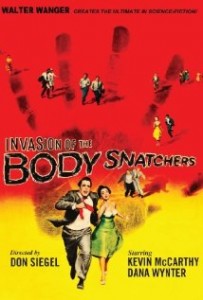 Saturday October 24 10:00AM INVASION OF THE BODY SNATCHERS (1956) 80 min. D: Don Siegel. A doctor returns to his hometown and discovers a weird epidemic of people claiming that their loved ones are emotionless imposters. The grimmest and most allegory-laden of all sci-fi movies memorably stars Kevin McCarthy as the initially bewildered sawbones along with a gorgeous Dana Wynter, Carolyn Jones, Larry Gates and King Donovan. Filmed in SuperScope.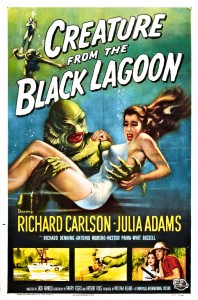 Saturday October 24 1:00PM CREATURE FROM THE BLACK LAGOON (1954) 79 min. D: Jack Arnold. An expedition to the Amazon i.e. the Universal Studios back lot discovers the prehistoric Gill Man who falls for gorgeous Julie Adams and who can blame him! This quintessential creature feature introduced the last of the iconic Universal monsters and also stars Richard Carlson, Richard Denning and Nestor Paiva. SCHEDULED SPECIAL GUEST: JULIE ADAMS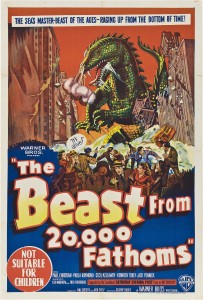 Saturday October 24 4:00 pm THE BEAST FROM 20,000 FATHOMS (1953) 80 min. D: Eugéne Lourié. A memorable collaboration between legendary sci-fi writer Ray Bradbury and renowned stop-motion animator Ray Harryhausen results in a defrosted Rhedosaurus wrecking havoc from the North Pole to lower Manhattan. The first instance of atom bomb testing used as a plot device for dinosaur-inspired urban renewal! Starring Paul Christian, Paula Raymond, Cecil Kellaway and Kenneth Tobey.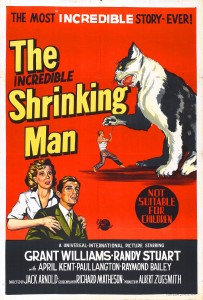 Saturday October 24 7:30 PM THE INCREDIBLE SHRINKING MAN (1957) 81 min D: Jack Arnold. The film that created an altogether different perspective of cats and spiders remains one of the most well made 1950s pictures of any genre. Grant Williams portrays the proportionally shrinking Scott Carey whose entire world literally closes in on him. Richard Matheson adapted a suspenseful script from his novel that is heightened by ingenious special effects and stellar supporting turns by Randy Stuart, April Kent, Paul Langton, Raymond Bailey and William Schallert.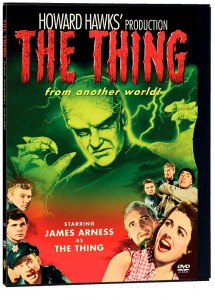 Sunday October 25 10:00 AM THE THING FROM ANOTHER WORLD (1951) 87 min. D: Christian Nyby. Renowned filmmaker Howard Hawks produced this stylish classic about a bloodthirsty alien terrorizing a North Pole research station. A sparkling ensemble cast headed by Kenneth Tobey, Margaret Sheridan, Robert Cornwaithe, Douglas Spencer, Dewey Martin and Robert Nichols keeps everybody warm by clipping off the acerbic dialogue penned by Charles Lederer, Ben Hecht and Hawks. A keen sense of humor was required to combat the dreaded "supercarrot" organism memorably portrayed by James Arness before he patrolled Dodge City in TV's Gunsmoke.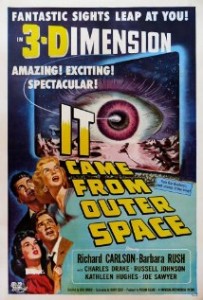 Sunday October 25 1:00 PM IT CAME FROM OUTER SPACE (1953) 81 min. D: Jack Arnold. Nobody believes an astronomer (Richard Carlson) after he observes a spaceship crashing in the Arizona desert. As strange events begin to pile up, the xenophobic desert populace succumbs to panic! Filmed near Palmdale and Victorville and co-starring Barbara Rush, Charles Drake, Joe Sawyer, Russell Johnson and Kathleen Hughes. Co-written by Ray Bradbury, this seminal sci-fi thriller also boasts an eerie music score composed by the great Henry Mancini. SPECIAL GUEST:  KATHLEEN HUGHES.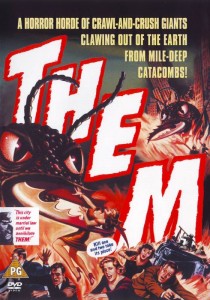 Sunday October 25 4:00 pm THEM! (1954) 94 min. D: Gordon Douglas. Those annoying atom bomb tests strike again by creating a nest of gigantic ants in the New Mexican desert that threaten the world. The first of the "big bug" flicks remains the absolute best of its kind with crackling performances by James Whitmore, Edmund Gwenn, Joan Weldon, James Arness and Onslow Stevens. Filmed on location in the Mojave Desert and the downtown Los Angeles river basin. Superbly paced and suspenseful: Not to be missed on the big screen!